Self-Assessment Guide For E-Verify Direct Access Users
Self-Assessment Guide for E-Verify Direct Access Users | Current as of 9/22/2022
1.0 Introduction
1.1 Purpose Of This Document
This Self-Assessment Guide (SAG) for E-Verify Direct Access Users is designed to assist E-Verify employers who access E-Verify directly to create and manage their own cases. This guide helps employers comply with the requirements provided in the E-Verify User Manual, the E-Verify Memorandum of Understanding for Employers (MOU) and assists in improving overall reliability and ease of use of E-Verify.
The U.S. Department of Homeland Security (DHS) recommends that E-Verify employers establish a process to ensure they are complying with Form I-9, Employment Eligibility Verification, and E-Verify statutes, regulations, and requirements. This guide provides information on creating and maintaining effective compliance and self assessment processes that will help you to:
Detect, resolve, and prevent noncompliant activities quickly and effectively;
Enhance the efficiency of your employment eligibility verification processes and human resource management; and
Promote proper use of

E-Verify

.
This guide also helps participating E-Verify employers comply with related employment eligibility verification requirements as described in the Handbook for Employers (M-274), E- Verify Supplemental Guide for Federal Contractors (if applicable), E-Verify User Manual, and the E-Verify tutorial. E-Verify compliance means meeting the terms of the MOU, E-Verify guidance and applicable laws, including the Immigration Reform and Control Act of 1986 (IRCA) and the Illegal Immigration Reform and Immigrant Responsibility Act of 1996 (IIRIRA). DHS encourages employers enrolled in E-Verify to establish a process for complying with the statutes, regulations, and requirements that pertain to both the Form I-9 process and E- Verify.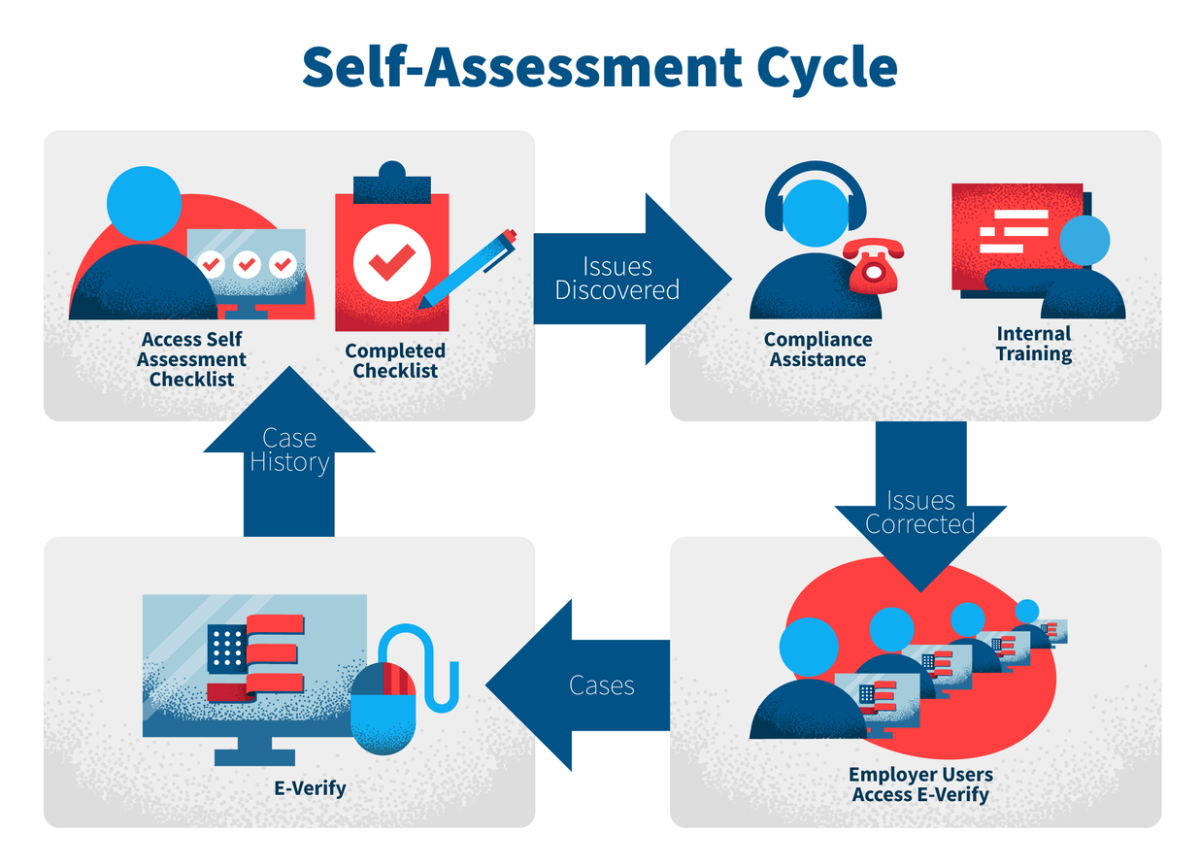 1.2 Background
E-Verify is an easy-to-use web-based program that builds on the Form I-9 process by allowing enrolled employers to quickly confirm every new hire's eligibility to work in the United States. Employers create cases based on information taken from a new hire's Form I-9. You should take care to avoid E-Verify case mistakes and misuse. Some types of misuse may leave you subject to legal action and/or termination of your participation in E-Verify.
1.3 Common Mistakes Found By Account Compliance
USCIS protects E-Verify against program misuse through monitoring and compliance activities conducted by E-Verify Account Compliance. Account Compliance monitors employer activity and notifies non-compliant employers of issues and offers them assistance to resolve non-compliance. Account Compliance may terminate an employer's E-Verify account and/or refer employers to Immigration and Customs Enforcement (ICE), the Department of Justice (DOJ) or other investigative or law enforcement agencies.
Some common mistakes participants make include the following:
Requesting employees to present specific or unnecessary extra Form I-9 documentation;
Selecting an incorrect List B document option from the

E-Verify

drop-down menu when creating the case;
Accepting a restricted Social Security Card;
Not ensuring the employee's Form I-9 List B identity documents have a photo;
Failing to enter the employee's email address when it was provided on their Form I-9;
Creating duplicate cases for the same employee without having a valid reason;
Failing to create a case no later than the third business day after the employee started work for pay;
Not making a legible copy of the front and back of the List A documents that trigger the photo matching tool;
Creating cases for employees who were hired before the effective date of the employer's MOU; and
Requiring an employee to use

E-Verify

Self-Check or

myE-Verify

.
Not having a program administrator listed on the

E-Verify

account;
Failing to update the points of contact on the

E-Verify

account;
Failing to download a Further Action Notice and provide it to the employee;
Taking premature adverse action against or terminating employees who received a mismatch;
Having Tentative Nonconfirmation (mismatch) cases that remain open and without action for more than 10 federal government working days after

E-Verify

issued the mismatch;
Using incorrect case closure statements;
Failing to close open cases with final case results; and
Failure to notify DHS of an individual's continued employment following a Final Nonconfirmation result.
2.0 How To Use The Self-Assessment Guide
Each section of this Self-Assessment Guide addresses a suggested area for an employer's internal account compliance program and includes a checklist employers may use to ensure they are complying with related activities.
2.1 Overview
Part 1: Account Maintenance Checklist
Part 2: Creating a Case Checklist
Part 3: Photo Matching Checklist
Part 4: Mismatch Process Checklist
Part 5: Final Nonconfirmation Checklist
Part 6: Final Case Resolution Checklist
2.2 Objectives
Encourage

E-Verify

employers to implement an effective self-assessment program to detect, correct, and prevent noncompliant activities
Emphasize the benefits of implementing an internal self-assessment program
Provide

E-Verify

employers with a tool to help them achieve satisfactory compliance
Provide educational information and training to participants
Encourage

E-Verify

employers to promptly respond to employee concerns and effectively use resources to address those concerns
3.0 Self Assessment Checklists
4.0 Resources
E-Verify has several videos, guides, job aids, manuals, letters, and other resources which will help you understand your responsibilities and make the hiring process easy. Check out our resources customized for employers like you.
4.1 Other USCIS Resource Links
5.0 Glossary
An individual or company enrolled in E-Verify. The two types of access methods are:
Employer- Most E-Verify participants, regardless of their business size or structure, are enrolled under the employer access method. This access method is used by the registered users of E-Verify employers and can include their human resources staff to electronically confirm the employment eligibility of their newly hired employees and/or employees assigned to a covered federal contract.
E-Verify Employer Agent- The E-Verify employer agent access method allows an individual or company to act on behalf of other employers to confirm the employment eligibility of their newly hired employees and/or employees assigned to a covered federal contract. For more information, visit Using an E-Verify Employer Agent.
A person or entity that conducts hiring. As used in this document, "employer" means a person or other entity that participates in E-Verify.
E-Verify users can have one of two roles: program administrator or general user. An employer enrolled in E- Verify must have at least one program administrator and can have as many general users as needed. All users are responsible for following all E-Verify program rules and staying informed of changes to E-Verify policies and procedures. All users have the following permissions:
Create and manage cases
View reports
Update own user profile
5.1 Commonly Used Acronyms and Terms
The following table contains the acronyms commonly used throughout the document.
| Acronym/Term | Definition |
| --- | --- |
| DHS | U.S. Department of Homeland Security |
| EAD | Employment Authorization Document |
| MOU | Memorandum of Understanding |
| SSA | Social Security Administration |
| Tentative Nonconfirmation | Mismatch |
| USCIS | U.S. Citizenship and Immigration Services |
In addition, this document contains several terms that have specific meaning for the compliance review process and/or business context of the USCIS Verification Division.