Self Check
Are you ready to work? Try Self Check, a free service.
Anyone in the United States age 18 and over can use Self Check to confirm their employment eligibility. After you enter the requested information, Self Check compares it against government records available to the U.S. Department of Homeland Security and the Social Security Administration to confirm your eligibility to work in the United States.
Self Check does NOT enable you to make changes to your citizenship or immigration status. For more information on correcting your immigration record, visit: How to Correct Your Immigration Record (e-verify.gov)
Benefits of Self Check
Self Check lets you confirm that your employment eligibility information is correct by checking it against the same databases E-Verify uses when employers create a case.
If Self Check finds a data mismatch, you will receive instructions to correct your records with the appropriate federal agency. Self Check is a great tool for job seekers because it gives you the chance to confirm your work authorization or correct your records before you start your next job.
Note: Employers cannot require employees or job applicants to use Self Check. Use of Self Check is voluntary, free and secure.
myE-Verify will prompt users to create or log in to a USCIS online account through myAccount. myAccount provides the public with access to USCIS external-facing systems through a USCIS online account. Individuals who do not already have a USCIS myAccount will need to create one by passing an identity authentication quiz before gaining access to all myE-Verify features. This is illustrated by the figure below.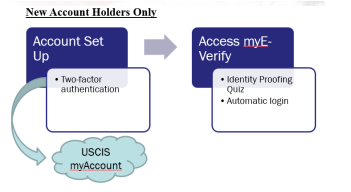 Step 1 - Login to myE-Verify.
Step 2 – Select Self Check from dropdown or click "Verify with Self Check".
Step 3 - Confirm or edit your personal identity information.
Step 4 – Select current citizenship or immigration status.
Step 5 – Select type of document you would provide to employer based on citizenship or immigration status selected in Step 4.
Step 6 – Confirm your Social Security number. The system will display only the last four digits for privacy and security.
Step 7 – After clicking submit, you will see your result.
Step 8 – If you do not receive an Employment Authorized result, additional instruction will be provided for you to resolve the mismatch.
Self Check compares the information you provided against U.S. government records available to the U.S. Department of Homeland Security. Based on the information you provided, if myE-Verify confirmed that you are authorized to work in the United States, and you are hired today by an E-Verify participating employer who creates an E-Verify case using the same documentation and information, E-Verify will likely instantly confirm that you are employment authorized.
If you are hired by a participating E-Verify employer and E-Verify does not instantly confirm that you are work authorized, ensure that your employer entered your information correctly in E-Verify. If necessary, follow the steps outlined by the E-Verify Tentative Nonconfirmation (mismatch) process to resolve any issues. Receiving a mismatch result does not necessarily mean that you are not authorized to work in the United States. A number of things can happen between now and when a future employer creates an E-Verify case that may result in a mismatch. Those could include name changes, citizenship or immigration status changes, expiration of work authorization, or data entry error when your employer enters your information into E-Verify. It is important that you keep your records up to date with the U.S. government agencies to ensure an accurate employment eligibility verification process.
Here are tips to remember:
You may NOT require your employees or potential employees to use Self Check or 

myE-Verify

 under any circumstances.

Requiring applicants to provide proof of their employment authorization before they accept an offer of employment is known as "pre-screening" and it may constitute a violation of the anti-discrimination provision of the Immigration and Nationality Act.
You may not require an employee, once hired, to use Self Check or

myE-Verify

. Use

E-Verify

to confirm a new employee's work authorization.

You always need to complete a Form I-9.

Even if your new employee has used Self Check or

myE-Verify

, you and your employee still need to complete Form I-9, Employment Eligibility Verification. A new employee's "work authorization confirmed" result from Self Check or the employee's use of

myE-Verify

does not replace your responsibility to complete and retain the employee's Form I-9. Your new employees must still fill out Form I-9 Section 1. For Section 2, your new employees must present unexpired and acceptable identity and work authorization documents that you must physically examine and use to fill out Form I-9 Section 2.

You must create a case in 

E-Verify

 for all new employees if you participate in 

E-Verify

.

If your new employee has used Self Check or 

myE-Verify

, you still must create a case in 

E-Verify

 for that employee. Neither Self Check nor 

myE-Verify

 provide users with a work authorization credential.

Self Check does not protect you from future claims that you hired an unauthorized worker.

An employee's use of Self Check does not create a legal presumption that you have not violated immigration law. This is true even if Self Check shows that an employee is authorized to work.