1.2 BASIC WEBSITE NAVIGATION
All E-Verify users need to be familiar with the website navigation links. The figure below provides a screen shot of the employer user webpage. The navigation links within each area vary depending upon the type of user. For more information on navigation links for E-Verify employer agents, refer to the Supplemental Guide for E-Verify Employer Agents.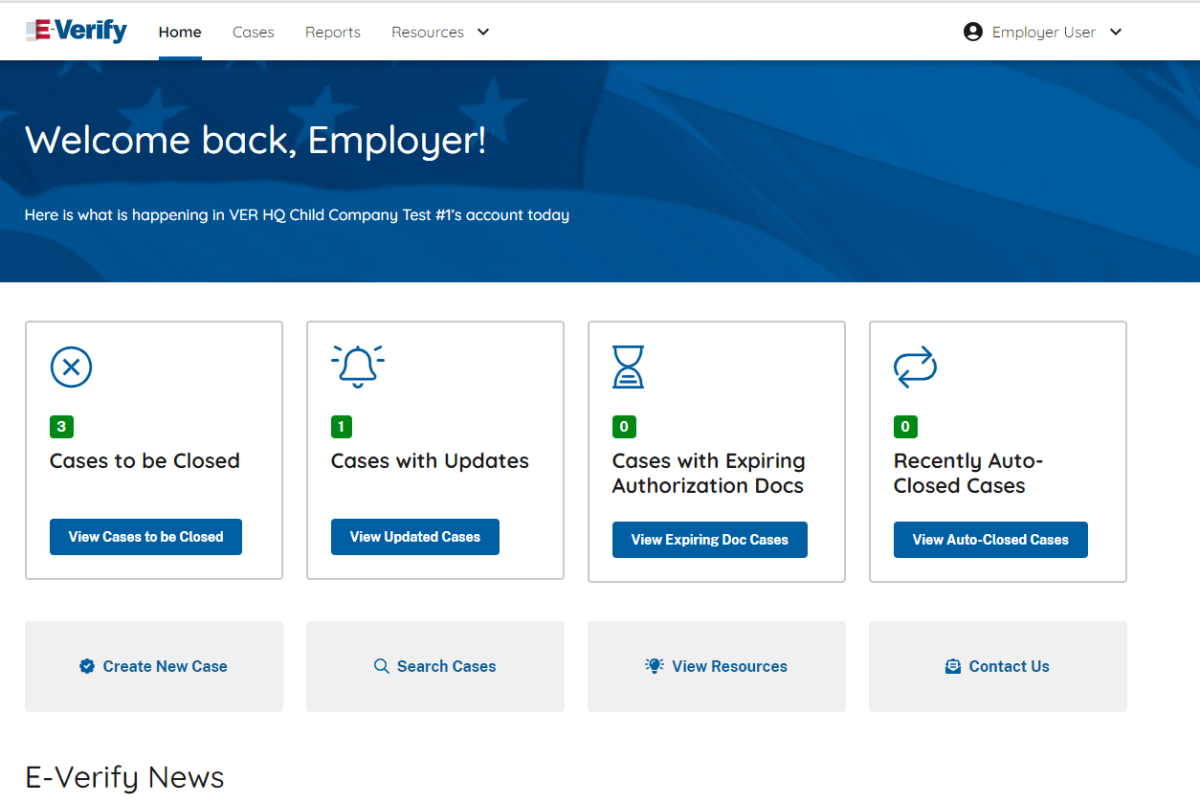 Area 1 displays the E-Verify Message Center which includes important updates on E Verify, information affecting employment verification, best practices and current events.
Area 2 contains Quick Links, which includes links to E-Verify contact information and to search cases. Area 2 also includes a shortcut to create an E-Verify case. Clicking Verify Employee will begin the verification process.
Area 3 displays Case Alerts that inform employers when an action is required. For more information on case alerts, see Section 4.2.
Area 4 contains E-Verify menu options which are identified in the Area 4 E-Verify Menu Overview. Selecting a navigation menu option is the first step in accessing a function in E Verify. Choosing a function displays the first active page where a user enters information. Menu options are tailored based on assigned user roles. For more information on user roles, see Section 1.4.
AREA 4
E-Verify

MENU OVERVIEW
MENU OPTION

FUNCTIONS

Cases

New Case
View Cases
Search Cases

Profile

Edit Profile
Change Password
Change Security Questions

Company

(Only program administrators have these options)

Edit Company Profile
Add New User
View Existing Users
Close Company Account

Reports

Resources

View Essential Resources
Take Tutorial
View User Manual
Share Ideas
Contact Us