6.2.3 CHANGE SECURITY QUESTIONS
Users can set security questions to allow them to reset their passwords. When a user logs into his or her E-Verify account for the first time, E-Verify will automatically prompt the user to complete these questions. Users who need to change their security questions should follow the steps in Change Security Questions – Process Overview.
CHANGE SECURITY QUESTIONS - PROCESS OVERVIEW
From Profile, select Change Security Questions.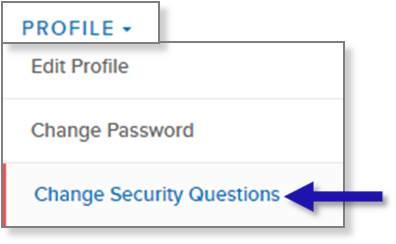 Select a question from the drop down list and enter the answer in the field below. Fields with a red asterisk (

*

) are required fields.
Click Submit. A confirmation message will be displayed.