7.4 Terminate Company Participation
Participation in E-Verify may be terminated voluntarily by employers. To terminate participation, a program administrator, corporate administrator, the signatory of the MOU, or an authorized employer representative must submit a termination request no later than 30 days in advance of the date the employer would like to close its account. Employers may request termination electronically through E-Verify (see Terminate Company Account – Process Overview) or by submitting a written termination notice by email to E-Verify@uscis.dhs.gov. E-Verify employer agents should review the Supplemental Guide for E-Verify Employer Agents for more information on company account termination.
During this 30-day period, employers must resolve all open cases in E-Verify, and they must not use E-Verify to create new cases. Employers are required to close all open E-Verify cases, even after the request to terminate the E-Verify account is made.
IMPORTANT: Once an account is terminated, employers will no longer have access to their account and associated records. To preserve the records from an E-Verify account, see Section 5.0 to create and retain a user audit report before the account is terminated. E-Verify case information and documentation must be retained for your employees for the same length of time as their Forms I-9.
To request termination of employer participation in E-Verify, perform the steps outlined in Terminate Company Account – Process Overview.
TERMINATE COMPANY PARTICIPATION – PROCESS OVERVIEW
From Company Account, select Close Company Account.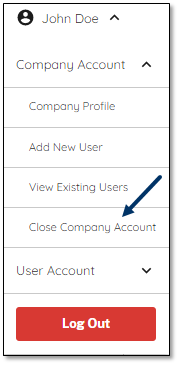 Click Termination Request Reason field.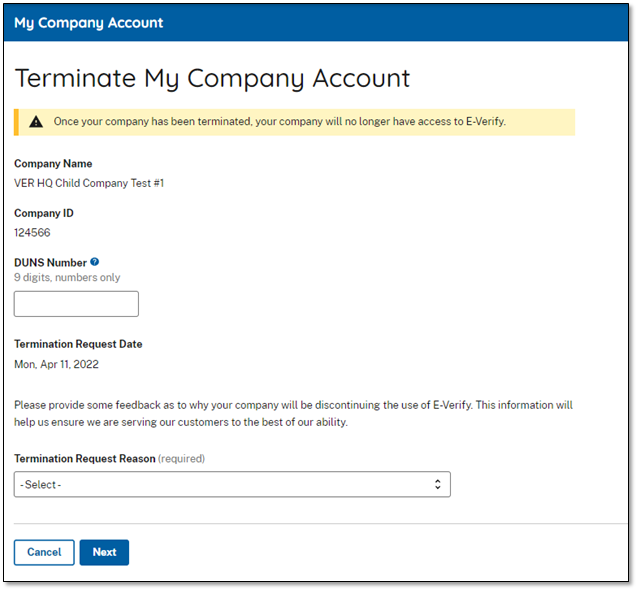 From the drop-down list, select a Termination Request Reason.
Click Next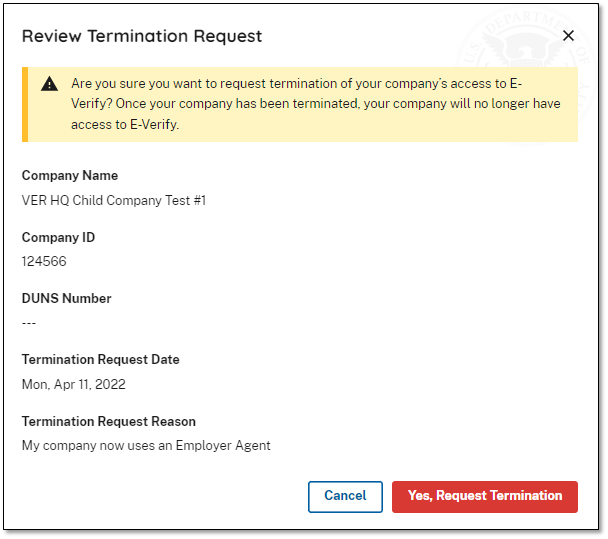 Review termination request and click Cancel or Yes, Request Termination.
You will receive an email confirming that your account is terminated in 30 days.
A message will appear informing you that

E-Verify

will be notified of your request to terminate participation in the program.
REMINDER
Employers with more than one

E-Verify

employer account must make separate requests to terminate each employer account it wants terminated in order for them to all be closed.
| | |
| --- | --- |
| | Employers who submitted a termination request by mistake should contact the E-Verify Contact Center at 888-464-4218 for assistance. |